by Maureen Wallace from She Know's: Parenting:
Throughout my life, I've feared I would one day develop
Alzheimer's disease
. I never expected I'd have a child with Down syndrome whose chances of developing Alzheimer's (AD) surpassed mine.
Individuals with Down syndrome have increased risk of developing Alzheimer's disease and related dementia. The idea terrifies me. If I'm worried I won't be able to take care of myself in my old age, what makes me think I will be able to care for my son?
My 3-year-old son, Charlie, has
Down syndrome
(Ds), which means while most people have 46 chromosomes, he has 47 — thanks to a third copy of the 21st chromosome.
The 21st chromosome. Remember that.
Scientific whodunit?
Dr. Michael M. Harpold
is chief scientific officer and chair of the scientific advisory board for the
Down Syndrome Research and Treatment Foundation
(DSRTF).
Every day, Harpold encounters parents like me who are on the verge of panic upon realizing their child may experience dementia at the same time we do, as parents.
Harpold explains researchers identified the link between Alzheimer's disease and Down syndrome in autopsies, where they recognized the formation of plaques. "A chemical analysis of the plaques showed one of the most prominent components was a fragment of protein called beta-amyloid," Harpold says. "Additional research identified and characterized the gene encoding APP — amyloid precursor protein."
Harpold explains that a fragment of APP is a major component of the plaques associated with the loss of nerve cells.
Most telling of all? "The APP protein is encoded in a gene located on chromosome 21," Harpold says. It's like a whodunit discovery for two separate conditions.
People with Down syndrome typically have three copies of the 21st chromosome — therefore, people with Down syndrome have an increased risk of developing Alzheimer's disease.
My heart hurts to write that.
Alzheimer's in people with Ds
By the time a person with Down syndrome is in their 40s, "... virtually all studies show individuals with Down syndrome have developed the amyloid plaque pathologies associated with Alzheimer's," Harpold reports.
And because individuals with Down syndrome have accelerated aging, dementia may occur at a younger age as well.
Dr. Julie Moran
is a geriatrician specializing in individuals with intellectual disabilities and a faculty member of Harvard Medical School. She is also the lead author of
Aging and Down syndrome: A Health and Well-being Guidebook
, distributed by the
National Down Syndrome Society
(NDSS).
"Accelerated aging means there's a phenomenon of aging that seems to take place at a more advanced rate than you would see in the typically developing population," Moran explained during a webinar sponsored by NDSS. "Accelerated aging means people in their 40s and 50s may experience changes similar to what you would see in someone 70 or 80 [years old] in the typical population."
My son is 3 years old — I am 40. In 37 years, when the risk starts to kick in for him around age 40, I will be 77. Do you see where my panic originates? Can you understand a feverish interest in raising money for research? I have to save my son!
Risk of developing Alzheimer's
Now, this doesn't mean all individuals with Down syndrome will develop Alzheimer's disease. In fact, Harpold points out there are individuals with Down syndrome as old as 80 years old who show no signs of developing the dementia associated with AD.
"The studies to date may be somewhat imperfect," Harpold says, "but in general they suggest Alzheimer's–associated dementia has been detected in about 10 to 25 percent of individuals [with Down syndrome] between the ages of 40 and 49."
According to Harpold, those percentages increase to between 20 and 50 percent in individuals with Down syndrome aged 50 to 59 years, and 60 to 75 percent and higher in those older than 60 years.
Parents weigh in
Kevin Thompson has a daughter with Down syndrome. He
blogs
regularly and says he's "very intrigued by the research."
Thompson is also a lead pastor of Community Bible Church of Fort Smith, Arkansas, which creates a dilemma for him. "The connection between Ds and Alzheimer's gives me an interesting voice in the stem cell research debate," he explains. "I'm very leery of creating stem cells just for the sake of research even though the research could help my daughter."
While torn regarding research, Thompson admits, "The awareness of the early onset of Alzheimer's is probably the most frightening aspect of parenting a child with Ds when we consider what her future might be like."
Mom works toward treatment discoveries
Sarah Wernikoff is the board chair of the DSRTF, and became involved with the nonprofit because she also has a daughter with Down syndrome.
"This reality [of my daughter's risk of developing Alzheimer's disease] threatens to take away the tremendous developmental progress she has [achieved], and will continue to achieve, throughout her young life," Wernikoff says.
"As with my other children, my hope for her is that she lives her entire life to her greatest potential. [Research into the link between Ds and AD] is aimed at minimizing the risk of early cognitive decline — and in turn enabling her to live a richer and more independent life, for her entire life, in all aspects — from social relationships, to school, to work and overall independent living."
"My angel's eyes"
Stephanie Young is the Northwest region coordinator for
Family-2-Family Health Information Center of Arkansas
, a project of the Arkansas Disability Coalition. Her 9-year-old son has Down syndrome, and because she received a prenatal diagnosis, Stephanie has worried about his risk of developing Alzheimer's disease since before he was even born.
"What is going on in his head is always on my mind — but in many different ways. I think about it not only in terms of what he is unable to tell me due to the language barrier, or just with regard to typical little boy mischief, but I worry about amyloid or 'plaque' build-up in the brain and I have been pursuing methods of battling that for years already... We work so hard to build communication skills and promote healthy relationships for [my son], I fear the day I may look in my angel's eyes and see a stranger looking back at me."
Ds to AD community: We're in this together
Here's why the link between Down syndrome and Alzheimer's disease is a game-changer. "The work going on to identify drugs that would prevent the progression or development of Alzheimer's pathology and dementia in the broader population… could be potentially applicable to Down syndrome therapy," Harpold says excitedly.
Just as impactful? "The research [the Ds community and DSRTF] support to identify drugs and therapies to address Alzheimer's pathology and Down syndrome could just as easily be applicable to people without Down syndrome and with Alzheimer's," he adds.
Learning my son has an increased risk of developing Alzheimer's — and at a younger age — was depressing and scary, but speaking with Dr. Harpold invigorated me with hope.
"I've been involved more than 40 years in research, including in many areas such as Alzheimer's disease, Parkinson's disease, epilepsy and other neurological disorders," Harpold says. "Frankly, over the past five to six years, I've not seen a field move as rapidly with as much progress as this in my entire career."
Disparities in funding
While research and funding for research into Down syndrome is increasing, it's still nowhere near the funding — or findings — generated by communities in search of treatments for other conditions, such as multiple sclerosis.
While Down syndrome affects approximately 250,000 Americans, research funding from the National Institutes of Health (NIH) is shockingly low compared to other conditions that affect approximately the same number of people — or even fewer.
The graphic below illustrates the disparity using Down syndrome population numbers reported by DSRTF and Research Down Syndrome (RDS). However, the Journal of Pediatrics reports approximately 250,000 people in the United States have Down syndrome. Using that figure, the estimated amount of funding per person by the NIH in 2012 was $80 per person.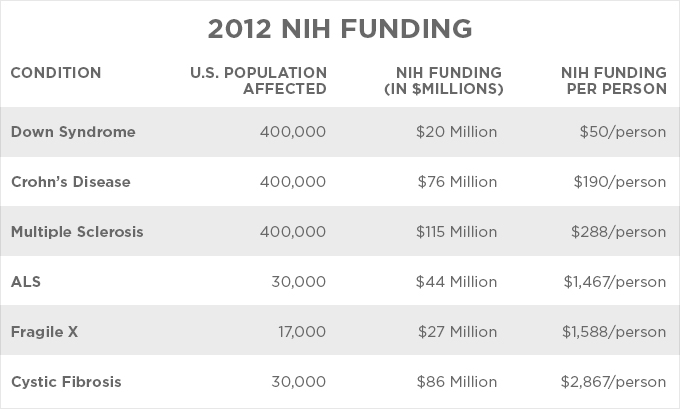 Equally discouraging is the disparity between the amount of money the Down syndrome community raises each year for research vs. the amount of money other communities of equal or smaller size raise for research of their conditions.
In 2011, it is estimated that the Down syndrome community provided approximately $3 million to fund research. The multiple sclerosis community provided approximately $40 million to fund research, and the cystic fibrosis community piped approximately $30 million into research of their condition.
This is not a case of "my condition is more important than your condition." This is about health-related communities having proportionate access to funding, research and treatment. Today, more than 5 million Americans have Alzheimer's disease, a statistic that may make more people interested in Down syndrome research.
What's holding the Ds community back?
Why is fundraising and research progress greater for health conditions that affect as many or even fewer people than Down syndrome? "The problem with Down syndrome is that it's a triplication of an entire chromosome, so researchers are confronted with perhaps 300 to 400 genes that are triplicated," Harpold says. "In a sense, it's saying, 'that's looking for a needle in a haystack.'"
As a parent, I can attest to my lack of knowledge about the link between Ds and AD, and I admit I had little interest in learning much of the science because, well, it's science (said the stereotypical female).
My family and I have raised money for our local Down syndrome organization for more than 3 years now, totaling nearly $20,000. I wouldn't change a thing — our local organization depends on fundraisers to help support critical programs and services. But my eyes have been opened. I now understand the importance of research to improve my child's future, as well as his present.
And research is under way. Harpold doesn't withhold his enthusiasm as he describes the infrastructure that is accessible to researchers seeking clinical trials. Roche Pharmaceuticals is nearing completion of a phase 1 clinical trial and commitment to phase 2 clinical trials to test a new drug in people ages 18 to 30 years old with Down syndrome.
Rally cry to step up
Dr. Robert C. Schoen
has worked with
Research Down Syndrome
since its inception in 2010. He also points to the disparities in NIH funding, and a lag in fundraising within the Down syndrome community, compared with other health-related fundraising organizations affecting similarly sized numbers of people as Down syndrome.
"I would encourage every parent to become aware of the tools and research done and find some way, whether with money or time, to make this an important part of your life to accept and be open to the promise of this research."
Parents, get involved!
You don't have to be a scientist to understand our children need our help to ensure that their futures have as much possibility and opportunity as research can afford them.
An easy way to get involved is to find out about the existing organizations that support Down syndrome research: