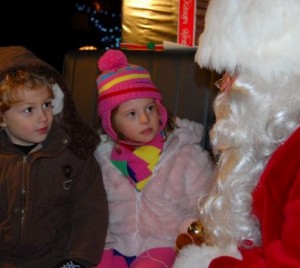 by Mark Leach from Down Syndrome Prenatal Testing:
In 2007, I attended my first ever
National Down Syndrome Congress
conference. Campbell Brasington, a genetic counselor from Charlotte, North Carolina, shared the simplest way to raise awareness about Down syndrome and engage in medical outreach.
This is the time of year when many of us will be mailing out Christmas/Holiday/End-of-Year cards to our friends and family. Typically, these annual missives will include a photo of the family and, for some, a written update on the family's activities. Brasington made the following simple suggestion for families to raise awareness about Down syndrome:
Include your obstetrician on your holiday card mailing list.
She explained that for many OBs, their experience with individuals with Down syndrome is the relatively brief moment of when they deliver a child with Down syndrome. If you have a child with Down syndrome, you can show how this child your OB delivered is growing up and what your child is doing. You can provide your OB a glimpse of what a life with Down syndrome can be like.
This simple tip isn't limited just to OBs, but it would be good to at least start there. Parents could also consider adding the labor and delivery department of the hospital where their child was born, as well as the medical professionals who provided prenatal care, like genetic counselors, geneticists, and maternal-fetal medicine specialists.
This year, a
group
of active moms
launched a social media campaign
to encourage families to follow this simple awareness raising tip. I have graciously been credited with this idea, but Campbell Brasington is who deserves the recognition as the originator of this great, easy idea.
And, also, this year, Lettercase, the publisher of materials through the
National Center for Prenatal & Postnatal Down Syndrome Resources
(where I serve as the bioethics specialist), is offering a great deal:
This year, please consider sending a Holiday card to your medical provider that includes a photo of your loved one with Down syndrome. From #GivingTuesday to Friday, December 6, anyone who makes a $15 donation to the National Center for Prenatal and Postnatal Down Syndrome Resources will receive a Medical Provider Holiday Gift Pack that includes "Understanding a Down Syndrome Diagnosis," "Delivering a Down Syndrome Diagnosis," our new testing pamphlet, and 5 National Center postcards.
If you missed it, today is the last day for this great deal. This gift pack is for anyone who cares about their local obstetricians having the medically-reviewed and recommended materials to be provided patients receiving a prenatal test result for Down syndrome. You can make a $15 donation to the National Center to get this gift pack at this
link
.
If you have a loved one with Down syndrome, I hope you will follow through with this simple tip of including your OB on your family's holiday card list. If families did this each year, it would provide examples of what a life with Down syndrome can be like for the OB and other health care providers to share with their patients when they first deliver the diagnosis. Who knows: your family's photo may be the one shown to a new or expectant mom to say, "well, this is how one of the families whose child I delivered is doing."