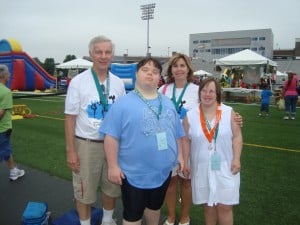 from
pressofAtlanticCity
:
Cheryl Laurence has a 23-year-old daughter, Kirstin Angelozzi, who has Down syndrome and loves swimming. When they couldn't find a swim team for her close to their Little Egg Harbor Township home, Laurence started a special needs team called Ocean County's New Wave.
Laurence coaches the team, which practices once a week from September to June in the St. Francis Center Pool in Long Beach Township. She gets lots of help from Tom Rears, of the Brant Beach section. His son, Thomas Charles Rears, 27, also has Down syndrome and is an excellent swimmer.
The team started with just four members, but that didn't keep it from participating in the New Jersey Special Olympics Summer Games at the College of New Jersey in Trenton last month, where both Angelozzi and Rears won silver medals in the 50-meter breast stroke.
Rears, who works at Wawa in Beach Haven and volunteers with his dad for Meals on Wheels, also placed fifth in the men's 50-meter freestyle. Angelozzi, who works at the Arc of Ocean County's supported work facility in Lakewood, took seventh place in the girls 50-meter freestyle, Laurence said.
"We're really looking for more members," said Laurence, who helps husband Jeffrey run Laurence Heating and Air Conditioning in Little Egg Harbor Township. Any young adult with developmental disabilities who knows how to swim is welcome, she said.
Email her at
mailto:angelaurence@aol.com or for a link to her website, visit
.com
PressofAC.com
.